10 best video subtitle generators for your social media strategy
Oct 12, 2023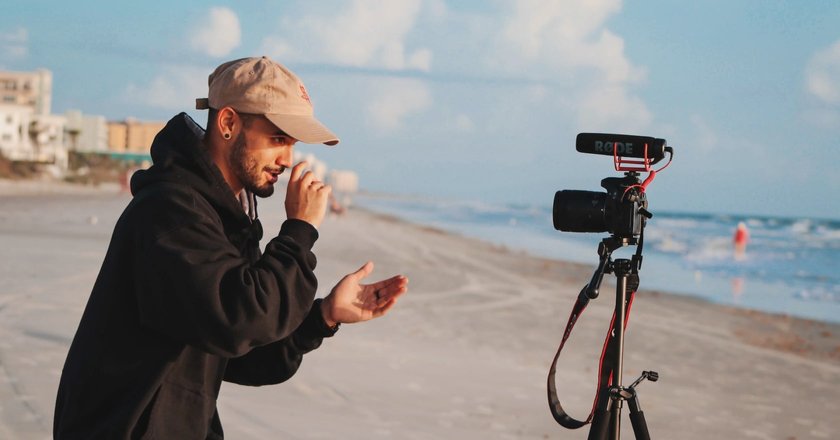 Automatically adding subtitles to your videos is the best thing you can do for your social media strategy. Subtitling makes videos more accessible, drives better engagement, and is favored by search engines.
According to Stagetext research, 80% of video content consumers aged 18-24 use subtitles all the time. And as Preply claims, 55% of Americans say it is harder to hear dialogue in shows and movies than it used to be.
But choosing the right tool for the job might be harder than it seems.
Different subtitling solutions can offer a variety of features, but in the end, it all boils down to how effective and seamless the process is.
Let's take a look at a selection of the best auto subtitle generators.
What are the benefits of a video subtitle generator?
When talking about video content consumption, there are three simple things you need to keep in mind.
People sometimes watch video content on mute
There are a ton of situations where people would like to tune off and scroll Instagram for a quick moment. It can happen in a line in the grocery store or at the doctor's office. Now wanting to disturb the people around, a person naturally views all of the content with no sound.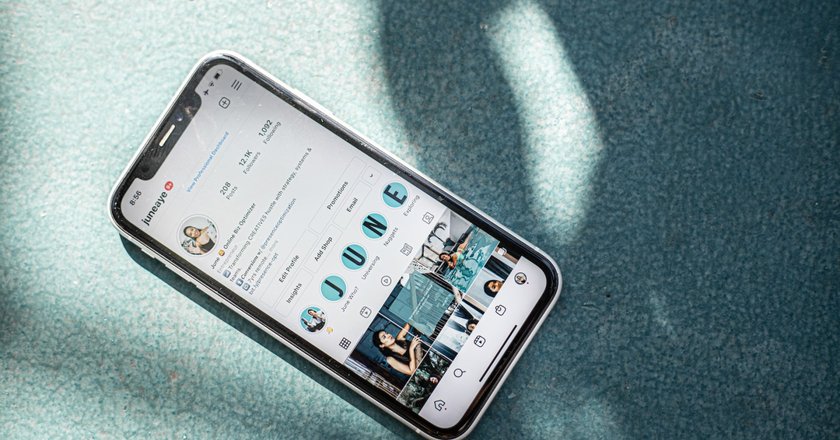 Your message must reach the audience
You gotta make your content as accessible as possible so that your audience can enjoy it to the fullest extent. And it's not just about putting CTA's in captions: every single word you put out there is set to compel the viewer to engage further: discover more content or make a purchase.
Making subtitles for each piece of video content you produce takes too much time
It may be easy to sit and transcribe the speech component of a single 40-second video. But you might have videos that are 30 minutes long. You can have hundreds of them coming out to a variety of platforms like social media and streaming services.
And we don't have to tell you something you know all too well: when it comes to marketing and promotion, consistency and speed are just as essential to success as the quality of promotional content.
Automated video subtitle generators do help on that front.
Need to automate video subtitling? Happy to help!
Top 10 best video subtitle generators for 2023
Now, the question is: what kind of tool should you use to create your subtitles automatically?
Worry not, we got a list for you. Here, you will get 10 of the best subtitle generators, and learn about their features, benefits, drawbacks, and pricing options.
1. Kapwing: web video editor that auto subtitles videos using AI
Kapwing utilizes AI automation, templates, and collaboration tools to make creating video content quick, effort-free, and efficient.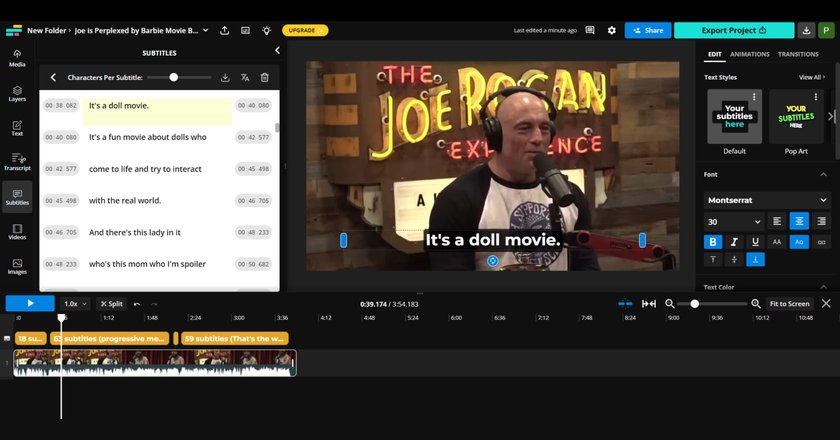 Apart from that, it offers an auto transcription feature, where it automatically adds subtitles to the videos you upload. It supports a ton of video formats and allows the user to customize the subtitles before getting the clip.
Pricing:
$16/month, billed annually.
Pros:
User-friendly UI — Kapwing is easy to learn, meaning it takes little to no time to get it up and running;
Wide range of video-editing features — you might not need to use several solutions to make cut videos and create subtitles for them. Kapwing is the all-one place for those;
Quick subtitle generation — the video subtitle generator feature is powered by AI, which facilitates quick and accurate transcription;
Free plan — the video subtitle generator offers its features for free, so users can try everything out and decide whether or not to upgrade to a paid plan.
Cons:
Limited export options — Kapwing allows users to export the videos only in MP4, which may limit some creators;
Limited platform support — Kapwing can only be accessed through a web interface, and users can't use the platform on mobile devices;
Watermark — the free version of the app includes a watermark on the subtitles, meaning you can only use it to test out the features.
2. CognitiveMill™: the video subtitle generator and the swiss-army knife of intelligent video analysis
CognitiveMill™ is a fully featured video content analysis solution that uses the power of Cognitive Computing to automate media workflows. Among other features, it offers top-notch subtitle generation.
CognitiveMill™ works with a wide variety of languages and can transcribe videos of any genre: interviews, podcasts, speeches of any sort, sports commentary, social media videos, movies, TV shows, and more.
The solution also pays attention to the context of the video to pick up jargon, and specific phrases, and make sure that there are no cut-off phrases or weird word-breaking.
CognitiveMill™ uses API to integrate into any type of production workflow so that the production staff doesn't have to jump back and forth between different pieces of software to do their work.
Pricing:
Based on the volume of transcribed content.
Pros:
Great transcription accuracy — apart from advanced speech recognition tech, CogntiveMill™ performs a deep analysis of video semantics to make sure that the subtitles are perfectly synced with the footage, and there are no weird cut-off sentences;
Context understanding — Cognitive Computing algorithms allow the solution to automatically create subtitles for videos on any content category. It can find its way around jargon and dialects with ease;
API integration — the software can neatly integrate into an existing content production workflow. This way, the creators won't have to hop in and out of different apps to get their job done.
Cons:
No free plan — CognitiveMill™ offers no free plan for users to try the solution out, though there is a DemoUI which is available for free;
Limited editing options — the solution serves as a video production automation tool, which means there is little creators can do to change the way videos are transcribed and edited.
3. Happy Scribe: an auto video subtitle generator and transcriptor
Happy Scribe, on the other hand, focuses entirely on transcription and subtitle generation. The service takes pride in the transcription accuracy, a ton of features for editing subtitles, and support for a wide variety of languages.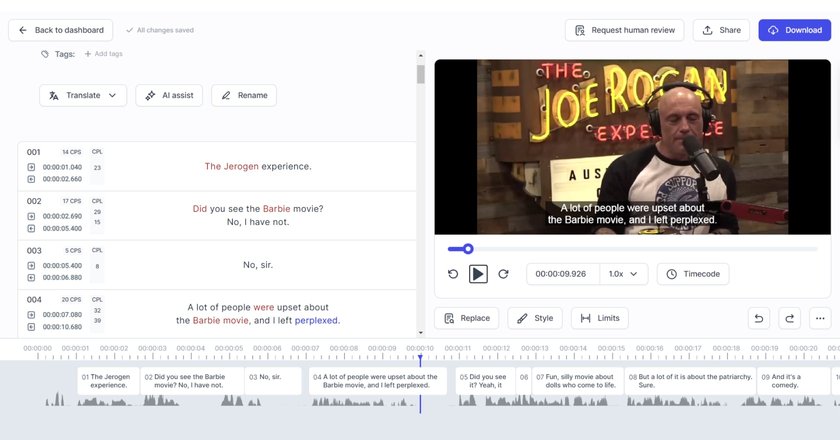 When it comes to further streamlining the process, Happy Scribe also lets the users share the transcripts and subtitles in a view or edit mode, ensuring smooth collaboration between creative professionals.
Pricing:
Basic plan — $17/month;
Pro plan — $29/month;
Business plan — $49/month.
Pros:
User-friendly interface — streamlined UI helps users get a hang of it quickly;
The language support — Happy Scribe works with a whopping 120 languages, and that versatility allows users to auto subtitle videos made in a language other than English;
Subtitle customization — users can use Happy Scribe not just as an automatic subtitle generator, but also as an editor. They can change font style, size, and color for the subtitles;
Cons:
Limited free plan — the free plan is more like a trial because it has limitations on transcription length. The majority of creators would have to upgrade to a paid plan to benefit from a video subtitle generator;
Cost — despite the availability of a limited free plan, paid subscription costs are relatively high. That may be a drawback for content creators on tight budgets;
Limited file size — Happy Scribe can only upload 3 hours of video at a time, which severely limits production scaling.
4. Rev: human-made transcriptions and auto subtitles for video
Rev is another transcription-oriented tool on our list. As well as other video subtitle generators of this caliber, Rev offers AI-powered transcription, subtitle, and caption generation.
The auto subtitle generator offers 99% transcription accuracy, works with a multitude of languages, supports a ton of file formats, and allows the user to customize the way subtitles look on a video.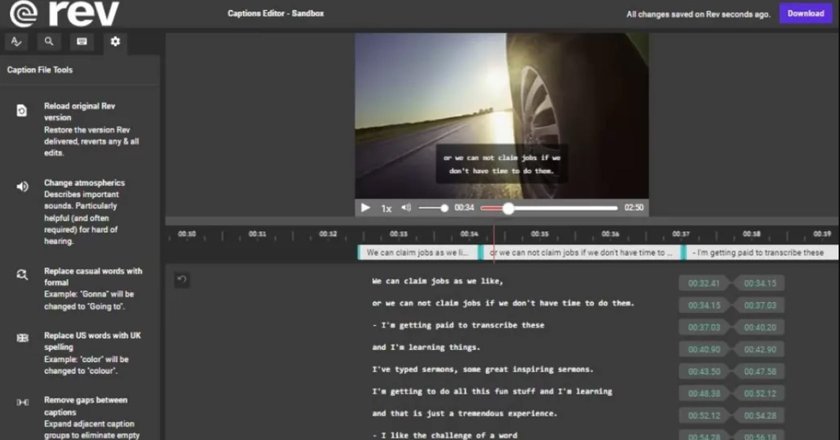 Among those features, the software allows you to have a trained professional transcribe your content.
Pricing:
Automated transcription — $0.25/minute;
Human transcription — $1.50/minute;
English captions — $1.50/minute;
Global subtitles — $5-$12/minute.
Pros:
High-quality transcriptions — apart from auto subtitling the video, Rev offers transcriptions made by humans;
99%+ accuracy — intelligent speech-to-text algorithms make sure that the subtitles are as accurate as possible;
Timestamps included — transcriptions are matched against the timestamps, allowing creators to easily navigate hours of footage.
Cons:
Paid service with no free option.
5. Sonix: auto subtitles for video with high speed and accuracy
Sonix boasts the ability to transcribe videos in more than 38 languages using its advanced automated transcription engine. On top of transcriptions, the software creates subtitles for videos and gives the user full control over the transcriptions and subtitles with the built-in editor.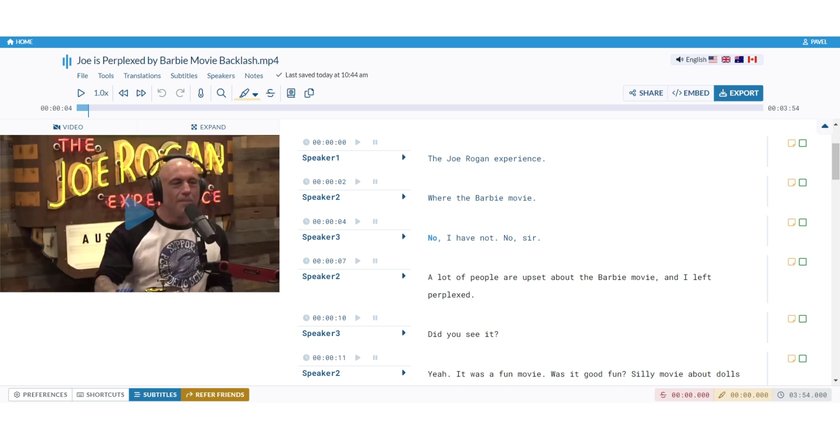 Sonix goes even further in terms of streamlining the workflow of creators with its collaboration features. It allows multiple users to upload, comment, and edit files and folders, so they won't have to shoot emails back and forth for a better portion of their day.
Pricing:
Standard — $10/hour of content;
Premium — $5/hour of content, $22/month;
Enterprise — available upon contacting the sales team.
Pros:
Excellent accuracy — top-notch speech recognition technology ensures accuracy in video subtitling;
Integration with popular video platforms — to spare the users from alt-tabbing between open apps, Sonix provides seamless integration into platforms like Zoom and Google Meet;
Easy-to-learn editing interface — simple UI is easy to navigate meaning the team will get a hang of it in no time;
Collaboration features — the ability for several users to edit and comment on a single file increases content production effectiveness.
Cons:
High pricing — even with a subscription, the users must pay for usage above a certain limit;
Quality issues — the quality of transcription heavily depends on the footage audio quality. Quality imparities may result in subtitling and transcription effectiveness;
Limited language support — Sonix works with 38+ languages, but other solutions offer a wider variety.
6. Trint: how to add subtitles to a video at a premium
Trint also takes pride in its transcription accuracy, as well as collaboration features. It transcribes speech and makes subtitles for webinars, podcasts, or any other type of spoken content using top-of-the-line speech-to-text tech that ensures up to 99% accuracy.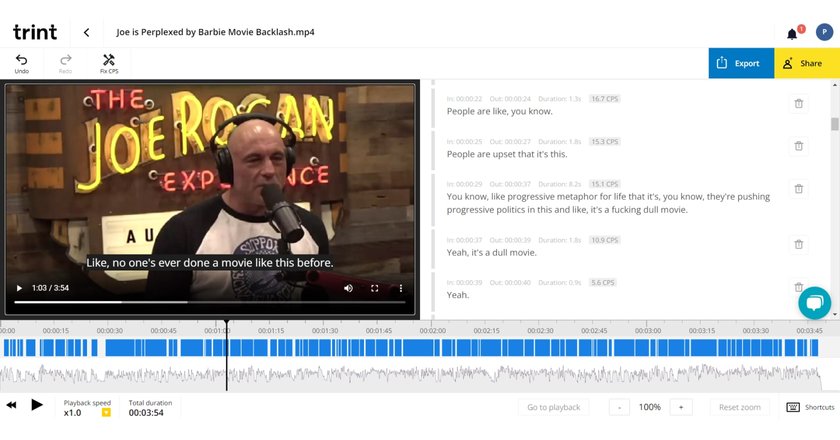 The auto subtitles generator works with more than 30 languages to empower the user catering to global audiences, and offers collaborative features. This way, the entire team of creators can work on a single file with the ability to comment and add notes to transcripts.
Pricing:
7-day trial — free;
Regular plan — $75/month.
Pros:
Interactive transcript editor — Trint allows the users to edit the transcript after the fact;
Supports multiple languages — 30+ language support ensures the team's ability to work with international content;
Trial period — before paying for a subscription, the users can opt for a trial period to make sure the service is the right fit for them.
Cons:
Cost — Trint only offers a single $75/month plan for a single account, which is more expensive than other services that offer more flexible pricing;
No free plan — despite having a trial period, there is no limited free plan.
7. Watson Speech to Text: enterprise-grade video subtitle generator
Watson Speech to Text is quite famous in dig corporate world. Developed by IBM, it harnesses the power of AI to convert spoken language into written text. Watson is equipped with a myriad of cutting-edge features that make it a reliable and versatile solution for various transcription needs, like multiple language support, language model customization to transcribe jargon, speaker identification, and API integration.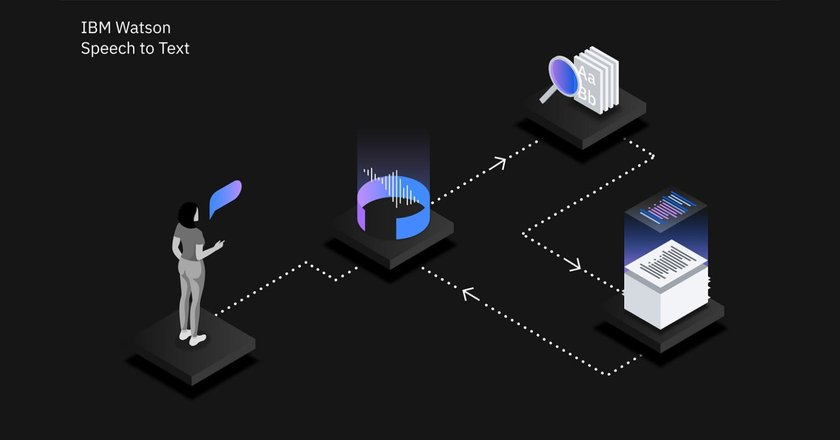 Pricing:
Lite — free;
Plus — $0.01/minute of content;
Premium — price available upon contacting the sales team;
Deploy anywhere — price available upon contacting the sales team.
Pros:
Great accuracy — IBM is in a class of its own when it comes to speech recognition algorithms. The user can expect high accuracy of video subtitling;
Customization — Watson allows the user to edit its language models to improve recognition of field-specific jargon and regional language dialects;
Flexible API — IBM ensures streamlined deployment for a business of any scale.
Cons:
Complex implementation — advanced technology offered by Watson requires technical knowledge to get it going;
Can be expensive for heavy usage — the premium plan includes more technically-intensive offerings that may come at a much higher price.
Get the most value from a video subtitle generator!
8. Simon Says AI: lackluster auto subtitle for video software
Simon Says AI offers 90% transcription accuracy, transcribing audio and video files, as well as live streams, webinars, podcasts, and more. Live stream transcription is facilitated by its real-time transcription technology, which also enables the user to conveniently edit the transcript on the fly.
In terms of language support, Simon Says AI supports a whopping 100 of them with dialects included, making it one of the most versatile transcription solutions out there.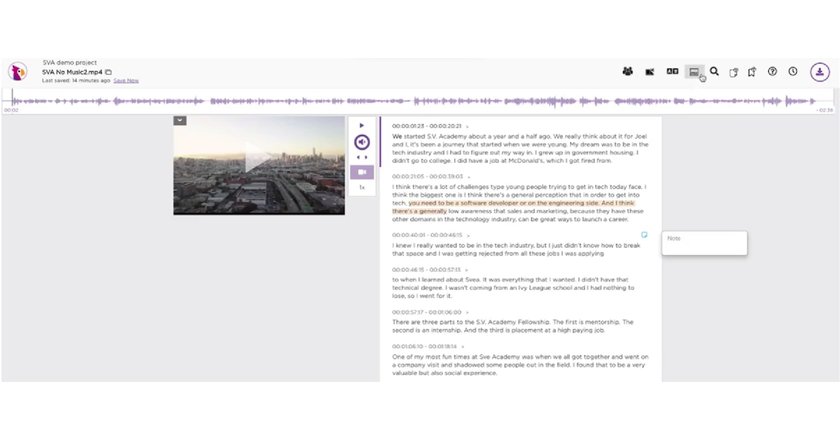 Users also get to control and train the semantic models to fit their line of work, so that the software has an easier time recognizing specific concepts and jargon.
Simon Says AI enables users to collaborate on their transcripts, sharing files and editing them together.
Pricing:
Pay as you go — $15/hour of content;
Starter - $15/month, billed annually;
Pro — $33/month, billed annually;
Pro+ — $125/month, billed annually.
Pros:
User-friendly interface — the video subtitle generator has a streamlined UI that makes transcribing the footage as seamless as possible;
Easy integration with video platforms — Simon Says AI can export transcriptions and subtitles to a variety of video editing apps like Adobe Premiere and DaVinci Resolve;
Affordable plans — auto subtitle for video solution is priced quite competitively considering the set of features offered.
Cons:
Lack of editing options — Simon Says AI doesn't allow the users to edit subtitles style;
Accuracy issues — the video subtitle generator can have lower accuracy with certain accents and background noise.
9. Amara: a versatile video subtitle generator
Amara is a versatile and user-friendly tool that offers transcription services of impressive accuracy. Its intuitive dashboard allows users to upload, manage, and organize their transcription projects easily. The clear and straightforward workflow ensures convenience and efficiency.
The collaboration features you would expect are present, and the users can create a style guide that facilitates accurate transcriptions while adhering to specific formatting and punctuation preferences.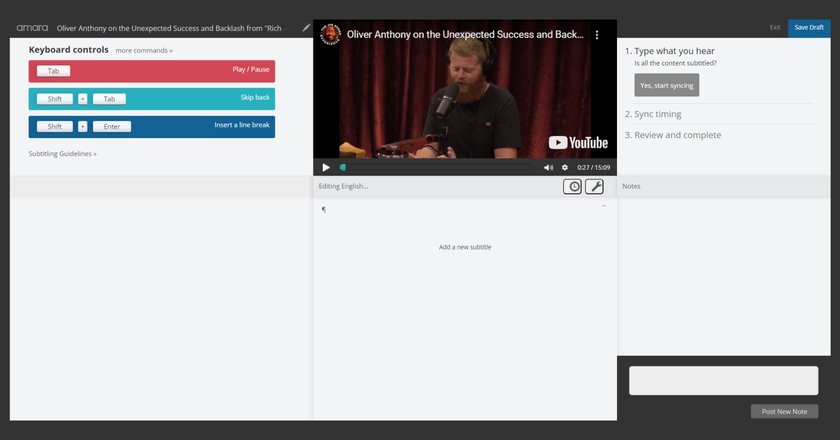 In addition, a video subtitle generator can identify different speakers and label them in the transcription.
Pricing:
Public — free;
Plus — $24/month;
Enterprise — customizable;
Integrated — customizable.
Pros:
Versatile platform — Amara packs a ton of features to facilitate content production efforts. The users can create transcriptions, captions, and translations of the footage, and also collaborate on them;
Supports multiple video formats — video producers won't have to reformat their footage to use the video subtitle generator. Amara chews through a wide variety of video formats;
Free plan available — free plan with limited functionality allows the creator to try the auto subtitle for video solution before going for a fully-featured version.
Cons:
Transcription accuracy may vary — background noise or people talking over each other on the video may hinder auto subtitling functionality;
Free plan influences support messaging — users with a free plan aren't prioritized in terms of support. Handling issues might take more time than for those with paid plans.
10. YouTube Automatic Subtitles: not a flashy way to auto subtitle a video
YouTube automatic captioning is hands down one of the easiest ways to create subtitles for your videos. The users can automatically generate subtitles for any video before or after uploading it to their profile.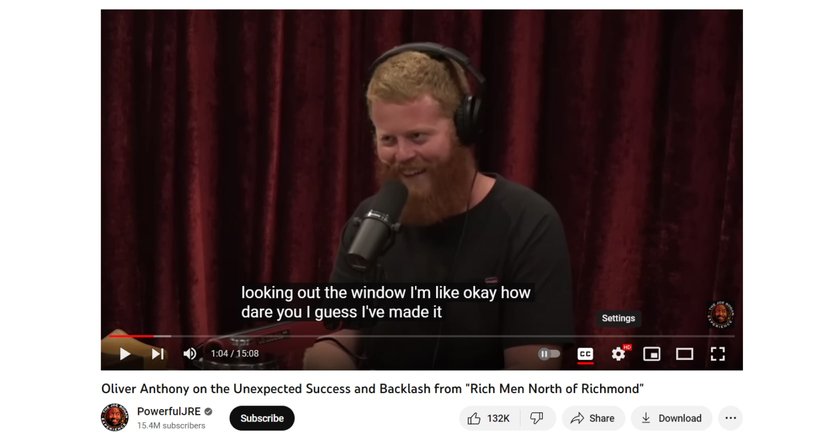 Then, all it takes is just a couple of clicks, and YouTube will put the subtitles on the video. After that, the users can review and edit them as they see fit.
Pricing:
Pros:
Free to use — just like the platform itself, YouTUbe doesn't charge for subtitling feature;
No need for external tools — users can automatically subtitle a video through a web interface;
Supports multiple languages — YouTube auto subtitles videos in a wide variety of languages, which is always a plus for a free tool.
Cons:
Transcription accuracy can be inconsistent — YouTube has a hard time transcribing jargon and videos with poor audio quality;
Limited control over formatting — users can't control the way the overlay with subtitles looks.
How to choose the best video subtitle generator
Making high-quality video content is not the only part of a successful social media strategy.
One of the other important aspects that go into that is the accessibility of said content, which is greatly improved through subtitling. Subtitles enable viewers to enjoy your videos in a variety of situations when they otherwise couldn't hear the audio and also make them more accessible to foreign language speakers and people hard of hearing.
The downside of the subtitle generation is that it is extremely time-consuming. And if watching the entire video, transcribing it, and editing the transcription over the footage isn't bad enough, doing that for hundreds of videos surely does.
In this case, automated subtitle generators are a sure go. When choosing the best tool for the job, you must:
Define the purpose of subtitle generation software for you. Then you would have a clear benchmark that you can use to make sure a particular solution has everything you need;
After that, see how the software would integrate into your production process to make sure the creators won't have any trouble using it;
And lastly, consider the price! Nothing wrong with getting the most bang for your buck, right?
We would love to help you solve your subtitling problem! Feel free to reach us at support@cognitivemill.com or use the form below. We will talk about your use-case and offer the best possible solution to your problem. In addition, you can check out CognitiveMill™ through our DemoUI.