Automated video ad detection and replacement solution
Cater to your audience and deliver relevant advertisements with the help of completely automated video ad detection.
Apply the power of Cognitive Computing technology to analyze live broadcasts or VoD, find the ad pods, and swap them for the ones you need.
Say farewell to hours of manual syncing advertisement slots — it's all here, with no human interference.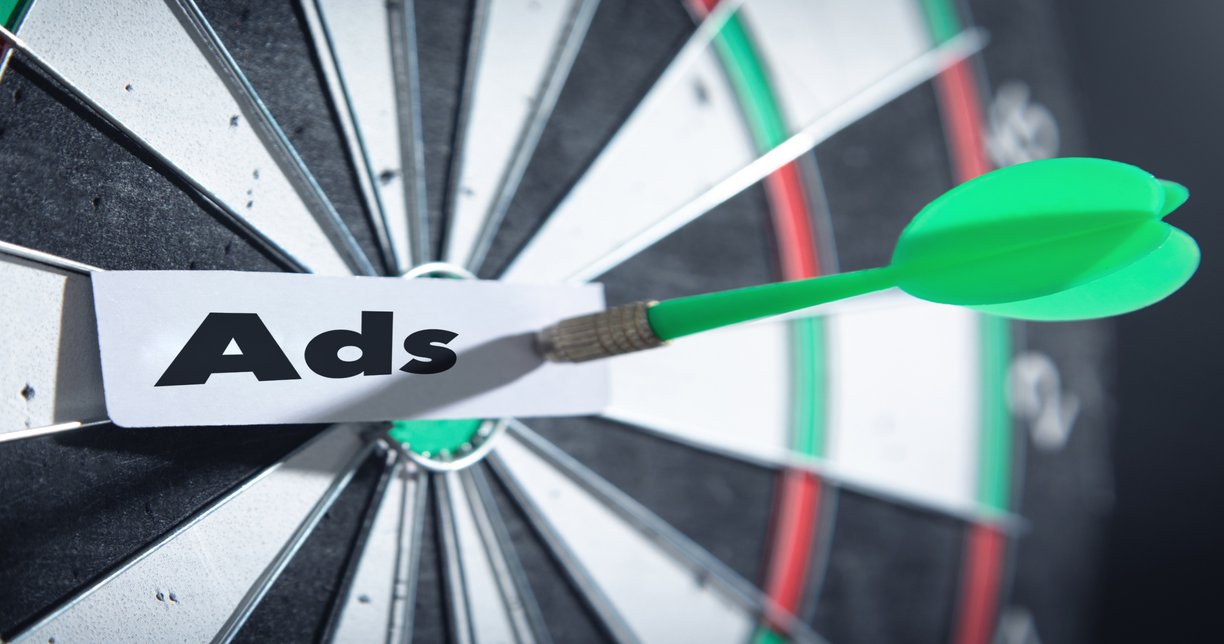 Try Demo UI
Automatically detect ads in any type of content
Through the capabilities of our cloud platform, we deliver an automated video ad detection tool that can work with a variety of video content types: you can put it through movies and TV shows of many genres, any sporting events, and even the videos created by internet users.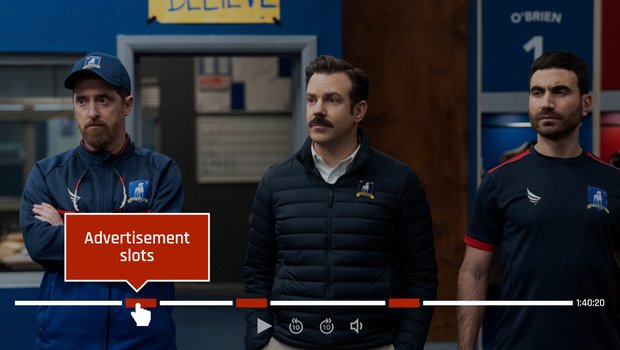 Video on demand
Easily analyze pre-recorded content, detect advertisement slots, and swap them for the ones you need. No mistakes, results are quick.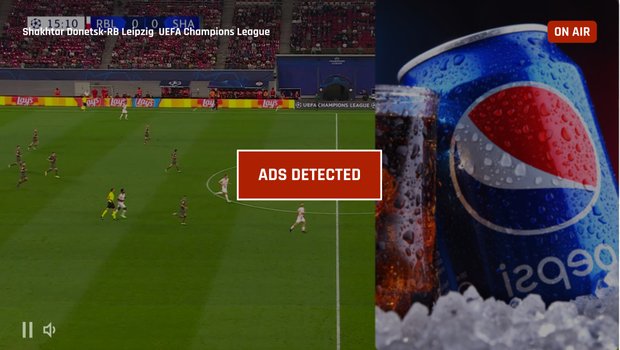 Live broadcast
In fact, the results are so quick that our solution can work within a regular broadcast delay. Take your video ad detection live.
Make your advertisers and viewers happy with a single hit of a button
Backed by state-of-the-art Cognitive Computing technology, our video ad detection and replacement tool does a great job of replacing manual labor as well. The system neatly integrates into your video content production pipeline and does the whole video ad detection and replacement thing completely automatically.
50x
faster than manual processing
Your viewers get more relevant ads about the products they might care about, your advertisers get better-targeted potential customers. Everybody is happy.
Try Demo UI
Go above and beyond with video content automation
We can offer a lot more benefits for your media business in terms of automation by offering services along with video ad detection, like automated ad replacement and more:
Get consistent results with the advanced cognitive analysis algorithms
We have built a Cognitive Computing platform that demonstrates a level of video content understanding unmatched by the competition. That understanding allows the tool to tell the main content apart from advertising segments correctly, saving you time on manual video ad detection and labeling.
Scene-by-scene analysis
We use advanced video clustering algorithms to detect the frames with ads in them.
Automatic ad replacement
Our solution automatically replaces advertisement blocks with the ones you choose.
Relevant advertising
The tool can not only replace the slots but also cut the ads out and place yours some place more relevant.
Automated ad insertion and replacement solution to enhance your production workflow
Artificial Intelligence helps the automated ad insertion tool make sense of the content it analyzes, making the complete process of ad replacement fast and mistake-free.
Use our ad insertion platform to cut production costs, while improving its efficiency and retention rates from advertisements.
Offer better advertisements at the right place, at the right time. Automatically replace the unwanted slots for the ones that make sense to you.
Have the automation take some of the workload off your editors' shoulders, so that they can focus on more important tasks.
Detect and replace advertisements in both pre-recorded video content and broadcasts. All through automation.
Enhance the viewing experience, keep the operational costs in check, deliver precise results without any human interaction.
Take your video advertising to the next level with precise video ad detection and replacement.
Try Demo UI