Structured celebrity face recognition metadata
CognitiveMill™ is an AI-based cloud service that automatically groups face recognition metadata for movies, TV series, news, and sporting events for your video streaming platform.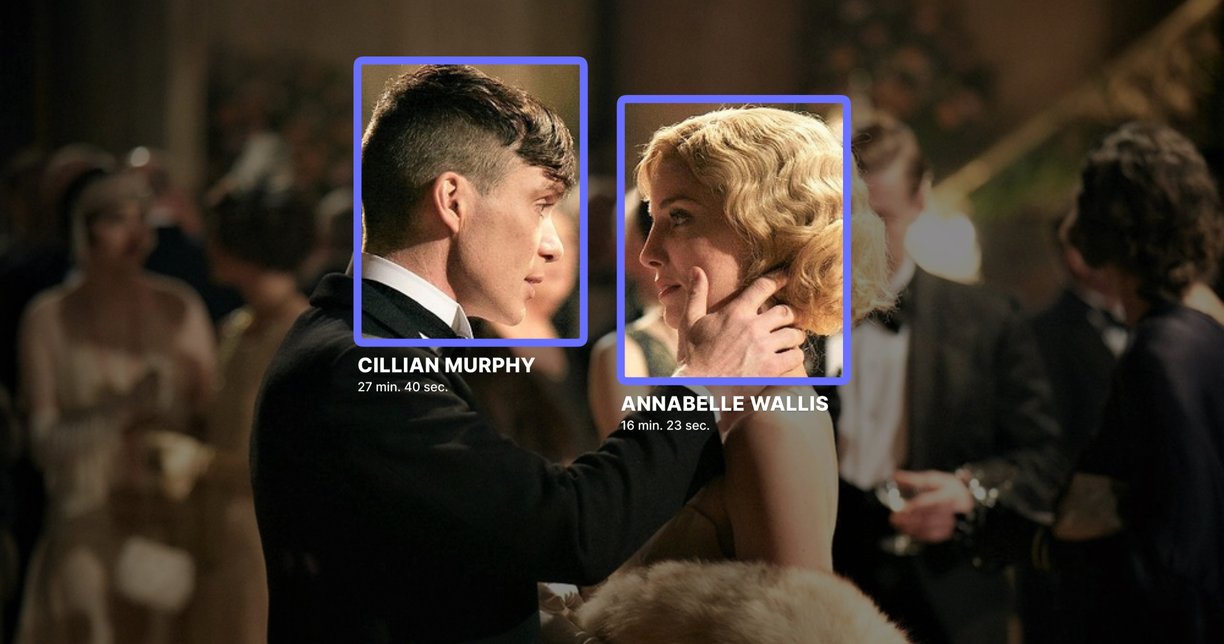 Try Demo UI
Get rid of tiresome meta post-processing
CognitiveMill™ clears celebrity face recognition metadata for you to scale your media operations and ensure an engaging viewer journey. Fast and scalable processing leaves only what's important to your viewers.
Industry-centric
We know what your pain points are. And we don't give you just a tool that you don't know what to do with. We give you an intelligent solution that delivers accurate and clean celebrity metadata.
Intelligent
Leverage AI-based celebrity face recognition together with lightweight postprocessing. It combines ragged metadata retrieved from every single frame in attributed understandable clusters.
Scalable
Our cloud infrastructure is scalable over hundreds of hours of media processing per day. Reliable and exclusively created for Media and Entertainment, the platform is ready for integration via API.
Blazing-fast
Our service processes a movie in mere seconds. You can cover all your extensive media library without having to process it manually. Get rid of the tedious part of media processing with CognitiveMill™.
Lightweight AI-powered pipeline in the Cloud
Your media
Upload your media files to CognitiveMill™ Cloud.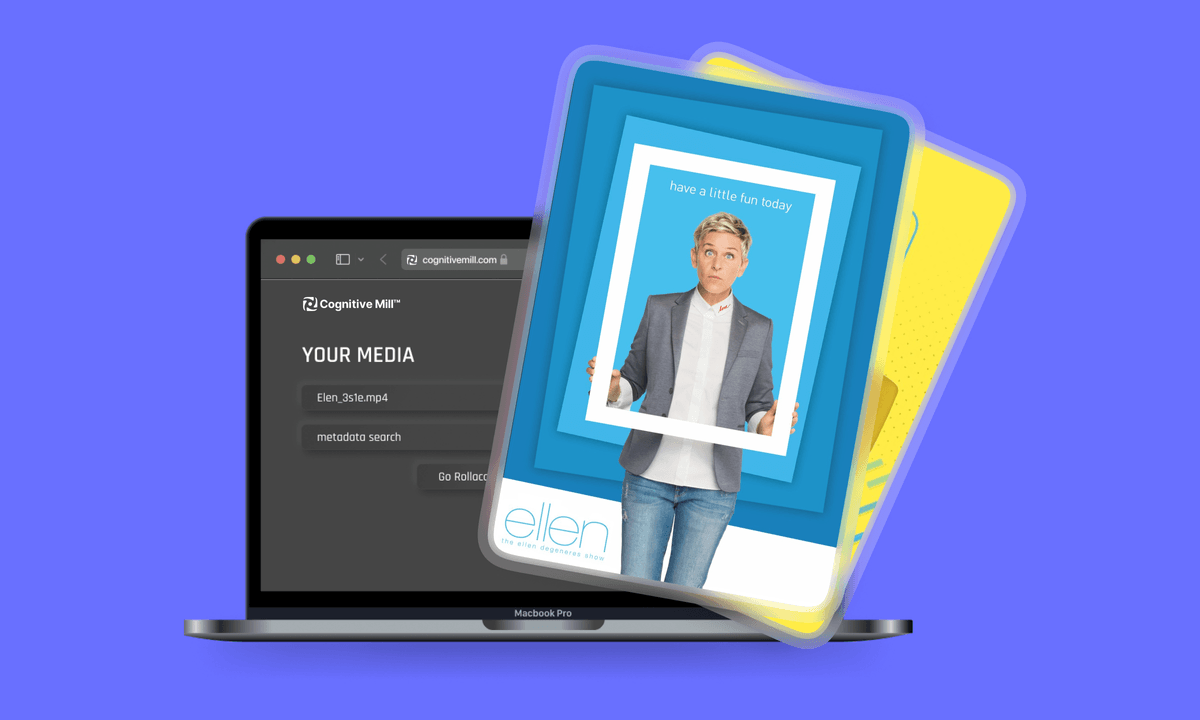 Results
The list of unique characters in your media, parts in which they appeared is delivered in a matter of seconds.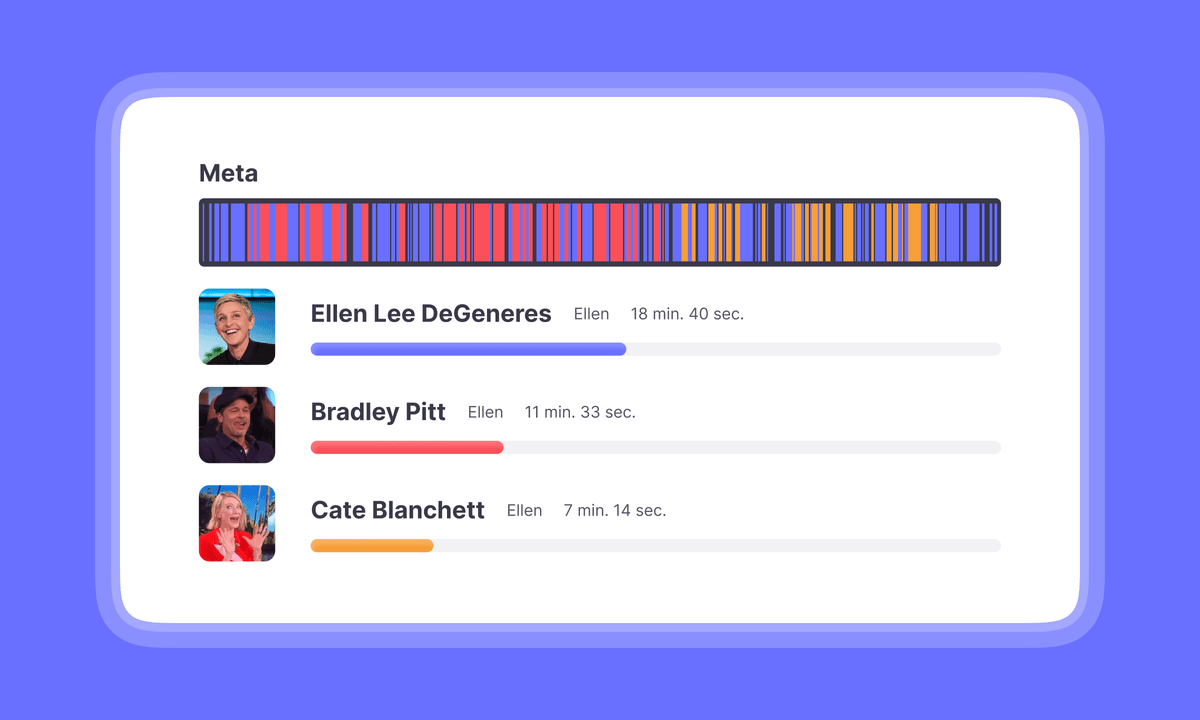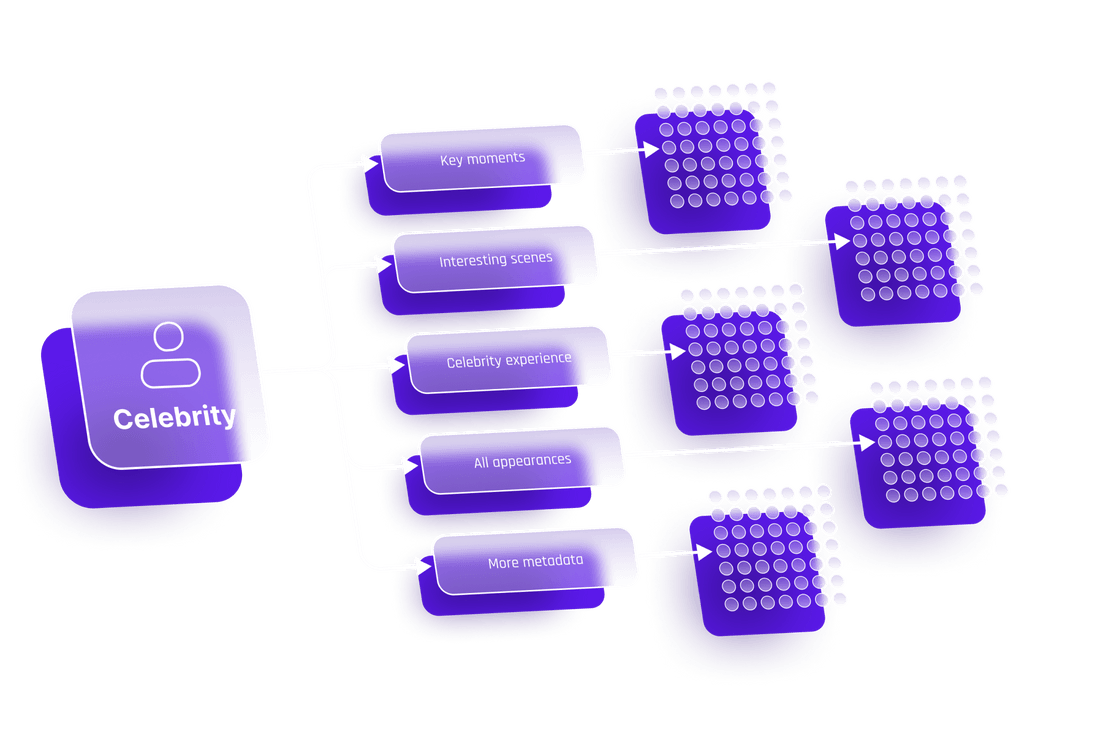 Celebrities metadata clustered and processed for your needs
Boost your viewer's engagement by making it easy for them to find out about the cast on screen without having to leave your video streaming service.
Try Demo UI
Power up your streaming service with CognitiveMill™
You can add these engaging cards and we will back you up with the technology.
Prompts with the in-scene celebrities
By adding this functionality you'll make it easy to find additional information about the actors in a particular scene without leaving your platform. CognitiveMill™ generates already cleared and grouped celebrity face recognition data for your video streaming platform.
Cast with the thumbnails from a movie
The cast can be unrecognizable in a movie, with all the makeup and costumes together with the changes in actors' appearances over the years. We generate a thumbnail by leveraging celebrity face detection to let your viewer check cast on the go.
Actors and all of their characters
Without having to leave your streaming platform, your users will be able to see all of the actors' characters. This simple feature can boost your viewers' engagement and let them discover other content of your video service.
The most prominent scenes with a celebrity
Either a favorite actor, a supported politician or a TV host, your viewers should be able to find the scenes with them in a click. CognitiveMill™ groups all the unstructured celebrity faces dataset metadata into clusters associated with a character.
Put your service in the viewer's spotlight!
Specifically designed to cover the Media and Entertainment needs, CognitiveMill™ is a cognitive computing Cloud infrastructure scalable over hundreds of hours of media processing daily.
We offer a ready-to-go API integration together with an elegant user-facing tool to such customers as:
Make your video streaming platform even more engaging for your viewers with CognitiveMill™. Let them discover celebrities and additional content without having to leave your service.
Tag your content with the help of our AI and create the best thumbnails automatically. See which content clusters show which celebrities. Help OTT platforms and video streaming services navigate through your content.
Add cards to your stream as pop-ups with actors on screen, auto-generated thumbnails and deep content tagging. CognitiveMill™ensures fast and precise celebrity metadata sorting.
With CognitiveMill™ your viewer will be able to choose all the moments with their favorite players instantly. Our AI-powered platform groups all the unsorted metadata for you. All that you need is to add small action items to your interface.
Let your viewers navigate through your broadcast easily by choosing the part they want to watch. CognitiveMill™ is an AI-based celebrity cast generator that groups unsorted metadata in understandable clusters for each character.
Grow your retention metrics by making your video streaming service more engaging. Let your viewers see where their favorite characters appeared.
Let your viewers be content!
Try Demo UI