AIHunters is picked for a product demonstration on the IBC 2021 stage!
Nov 18, 2021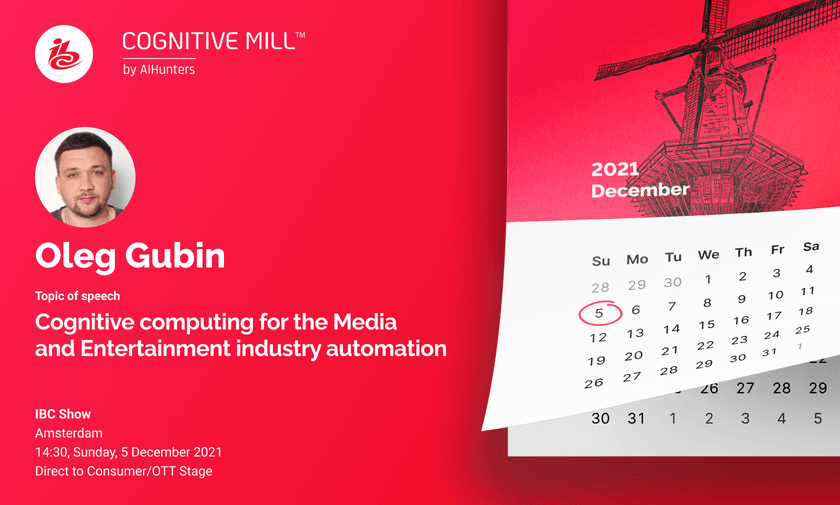 We are happy to announce that the AIHunters team is coming to Amsterdam for the IBC show 2021! Our founders, C-level executives, and talented team members will be happy to make their first appearance with our newly developed product — Cognitive Mill™. We see that long-awaited industry reunion as a great opportunity to meet our customers and partners in person and form new connections.
Yet, the most exciting part for us is not that.
Oleg Gubin is selected to make Cognitive Mill™ product demo
Oleg Gubin, AIHunters's CTO and founder is selected to demonstrate the Cognitive Mill™ platform to the wider audience on the OTT and Direct to Consumer Stage. The demo is scheduled for 14:30, Sunday, December 5, 2021.
Cognitive Mill™ is a unique cognitive computing cloud platform for intelligent Media and Entertainment industry automation. It is a multi-cloud infrastructure for intelligent, comprehensive, and scalable video processing that analyses video content faster (up to 50 times), more efficiently, and less costly than a human. One may even say that Cognitive Mill™ is just like a virtual assistant for humans.
In his speech, Oleg is going to make a point about how cognitive computing technology is serving the industry in terms of reducing unnecessary manual work and boosting the post-production processes. Besides that, the CTO is going to demonstrate the Cognitive Mill™ platform in action — to unveil the true power of cognitive computing and its perks for the industry.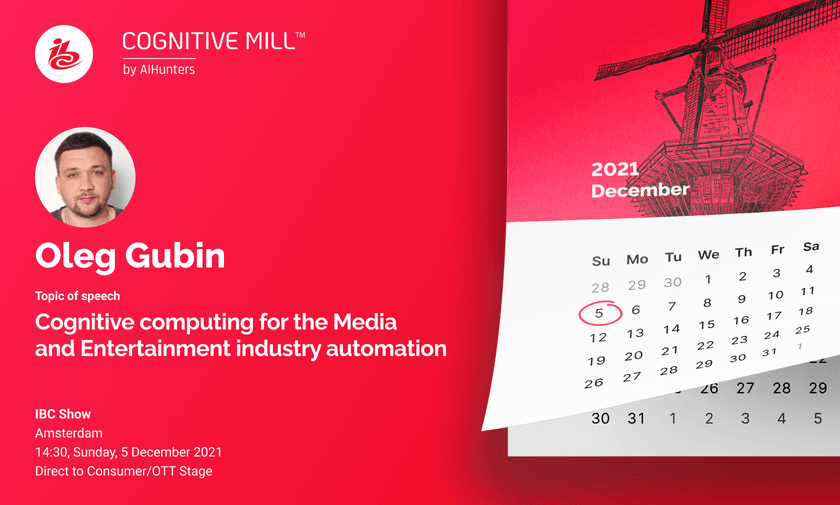 About IBC
IBC is one of the most influential Media, Entertainment and Technology shows reaching up to 55,000 in attendance. It is well-known and popular among industry leaders and various companies in the broadcasting, entertainment, and technology industry.
Join AIHunters at the IBC show!
Visit us at the booth during the show or reach out to support@cognitivemill.com to set up a meeting with the team in advance. Stay safe and see you at the IBC 2021!