Experience a new era of cognitive automation at IBC 2022!
Aug 10, 2022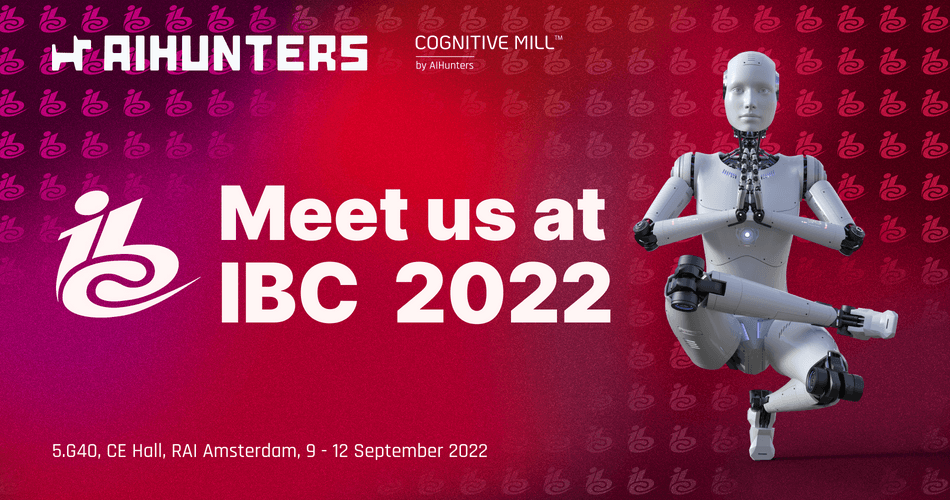 It's finally the IBC time of the year again!
After a 2-year break, we can finally say the long-awaited "we are going to IBC"!
The AIHunters delegation of co-founders, business development folks, and engineers will be happy to meet with partners and industry friends!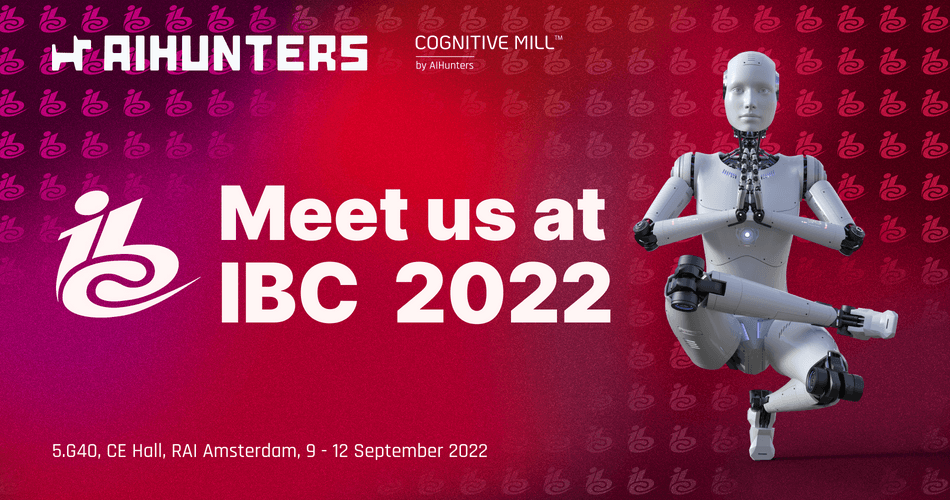 AI-based robotization for extended OTT experience
At the show, we will be demonstrating the benefits and capabilities of the Cognitive Mil™ cloud platform.
Cognitive Mill™ is a unique Cognitive Automation Cloud for the Media and Entertainment industry. It helps to automate the most tedious editing tasks with the human-like level of video understanding. It transforms how decisions get made by working with data in a manner previously associated only with humans.
As a result, business gets 50x upsurge in speed and 5x cost reduction.
The cognitive suite of 8 products — each addressing the pains of industry automation — are combined into a scalable ready-for-integration platform.
Besides, AIHunters is ready to share the insights on cognitive computing-powered media automation.
Book a meeting and let's talk!
At every step of media production and distribution
We automate content post-processing and editing at every stage of the media pipeline.
Every player in the industry can benefit from cognitive automation delivered by the Cognitive Mill™ platform:
Media production
Automated sports highlights creation
Trailers and thumbnails generation
Plagiarism and piracy control
Distribution tracking
Video auto-summarization
Delivery and distribution
Automated post-editing
End credits/openings skipping
Smart EPG correction
Video sentiment analysis
Cast management
Contextual advertising
Media consumer
Sensitive recommendation engine
Meaningful consumption
Hyper-charged meta enrichment
Nudity and NSFW content detection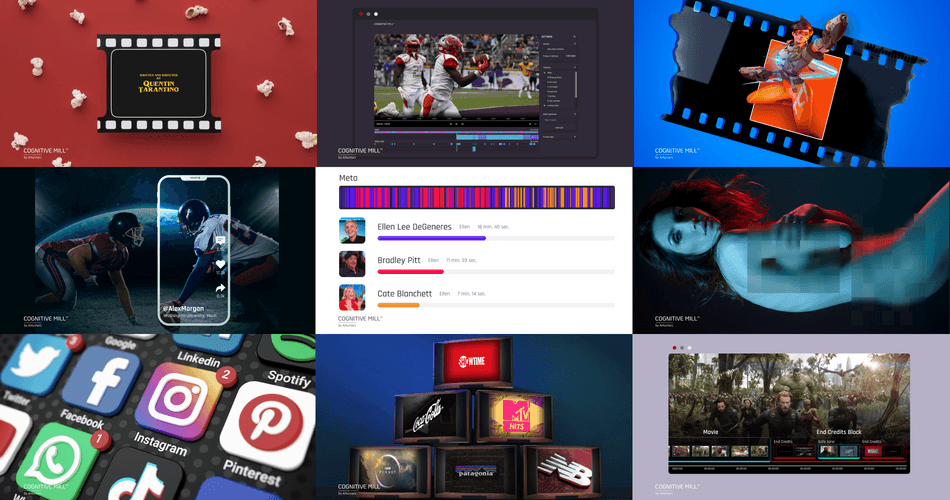 Meet AIHunters at Booth 5.G40, CE Hall
This year, AIHunters will be joining Oxagile, an end-to-end system integrator, co-exhibitor, and partner. With our joined forces, we are keen to offer you a consumer-driven OTT experience.
We can't wait to see you at the 5.G40 stand!